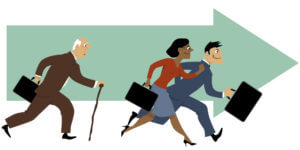 There are many potential implications associated with the aging workforce that employers are faced with today. Many organizations are beginning to understand that their longer-term business strategies have the potential to be compromised if the population of baby boomers currently in the workforce happens to retire at around the same time.
Many believe that older workers are more expensive and less productive than younger groups, but this conventional wisdom may leave you out of an opportunity to maximize talent base.
Aging Workforce Implications
Many employers are wary about hiring or even maintaining a primarily aging workforce at their organization despite many possible benefits. Because of the concerns surrounding this talent-management issue, employers must consider the full range of economic implications of an aging workforce, including both cost and productivity factors. The key to turning this issue into a business opportunity starts with a better understanding of its advantages and challenges.
Older workers are somewhat less likely to be disengaged and slightly more likely to be moderately or highly engaged at work than younger groups, according to a recent Towers Perrin Talent Report.
Because disengaged workers are more likely to leave their employers, it presents a retention risk for employers. This could mean a higher cost to the organization due to the high expense of employee turnover.
Turnover costs can be as much as 50 percent of an annual salary for many positions, so the benefits of maintaining a stable workforce and avoiding turnover often exceeds the increased compensation and benefits costs of aging workers. Because of this, the cost to hire and maintain older workers can be quite reasonable.
Hiring or retaining additional older workers may not cost much more than younger workers simply because these workers could offer enhanced skills such as experience, maturity and engagement.
Even though cognitive declines can occur with age, knowledge and experience in a field can offset this. Communication and decision-making skills acquired with experience at an organization can often make up for decline in manual dexterity.
Obviously, average pay tends to increase with service and age, but this can also result from movement up the career ladder in an organization. So, older employees are not necessarily more expensive in terms of pay.
Although health care claims costs do tend to increase with age, and are on average higher for workers nearing retirement age, costs can also vary due to many underlying factors. A study conducted by the University of Michigan Health Management Center found that age may be less of an influence in increased health care costs than factors such as individual health risk and proper health care utilization.
https://pfinsurance.com/wp-content/uploads/2022/05/PFI-logo-copy-300x100.png
0
0
rose
https://pfinsurance.com/wp-content/uploads/2022/05/PFI-logo-copy-300x100.png
rose
2019-02-01 09:00:00
2021-02-09 12:41:26
The Aging Workforce - Advantages and Challenges